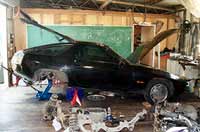 Auto to 5 Speed Manual Conversion
or .. so, you'd like to convert an auto to a manual?
by Stuart Mollart

Yep that's what I said to myself. So after quite a bit research I decided to buy another 928 a 1980 928S 5 speed and transfer the whole drive train (less the motor) into my car, sounds easy... HA!

Info about auto bodies.
If your car is pre 1986* you have the clutch master cylinder mount on the firewall. This is good - as all you have to do is drill out the holes that were covered up. If your car is post 1986* then you don't have the mount on the firewall, and you must do a firewall transplant - cut old one from manual donor and weld into the auto body - well I'm not going to get into that process - check out
www.kondratyev.com/porsche/convertible/clutch_linkage.htm
*RHD cars - don't hold me to these dates - due to variations in production runs etc. - check the firewall on your 928.

What's required in parts?
Flywheel

Pilot bearing for rear of crank

Clutch assembly inc. clutch fork

Bell-housing

Torque tube

5 speed box

Cross member

Gear shifter & boot, facia etc.

Clutch master cylinder with connection rod

Clutch slave cylinder with push rod & hydraulic line/flex hose

Clutch/brake pedal assembly

Micro switch for cruise control, rubber stopper for clutch pedal.

Reverse switch/speedo pickup wiring

Wire link to bypass auto lockout relay

The Process.
Remove the motor
Yes! You will find it a whole lot easier to do - well I did.



Remove auto trans
and torque tube - I did this in one process.



Modify firewall
for clutch master cylinder mount.



Cut auto shifter mount
from trans tunnel.



Transfer rear suspension
onto manual cross-member.



Install gearbox
and torque tube.



Change flywheel/clutch - soon!



Mount clutch
brake pedals.



Top up diff/gearbox
with the correct oil



Get a 4 wheel alignment
the rear end now needs re-aligning.



Testing!
I will have to wait a couple more weeks - I'm rebuilding my motor at the moment.


Comments.
Well what a fun job it's been, it's not a difficult job. If you have the space, tools and patience.
Cost: about $7,500(AUD) - most of that's the cost of the car and a handful of minor bits and pieces. Second hand parts come to about the same cost - if you can find them.
Time: that's a hard one - estimated 30 hours of no mucking about - otherwise about a weeks work.

Can you see the difference?
Contact me: stuart at ozebiz dot com dot au
top | remove auto trans | modify firewall
cut shifter mount | transfer rear suspension | install gearbox
install rear suspension | mount clutch | wiring | back