Tech Tips
Tech Tips are compiled from messages from the

list.
My thanks to all the contributors. CLICK HERE to subscribe
Latest


Engine


Fuel
Transmission
Suspension
Brakes
Body
Electrical


Misc
928 Specialists
Bruce's 928 Tech Tips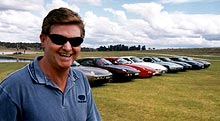 Factory-trained Porsche mechanic whose love of the 928 is evident to any of us who have ever spoken with him. He is kindly providing technical tips for the Landshark List ... click here
Rich Andrade, electronikrepair.com
We repair controllers.

For thirteen years we created for our internal use innumerable circuit diagrams, test software and two controller diagnostic stations. The controller which we best understand is the 928 LH controller .. more


Please note that these comments are the writer's personal opinions. I take no responsibility nor give any kind of warranty as to the accuracy of the statements included on these pages. The information in these pages is based on the extensive experience of Porsche specialists and owners who drive, service and even race the 928. Although this information is generally considered 'best practice' niether 928 Australia, Landsharkoz or the Webmaster will accept any liability for such information, or, for any use to which it is put. If you have doubts about a specific point, or if you have any questions, you should consult your Porsche specialist or post a question on the landshark mailing list. - Leonard Zech, Webmaster.