home > gallery > caption competition


Caption Competition
The image taken while returning from the recent '04 Coffs Frenzy. Our bikie friends were very impressed with Shane and Len's 928s'


Send me your best/funniest caption to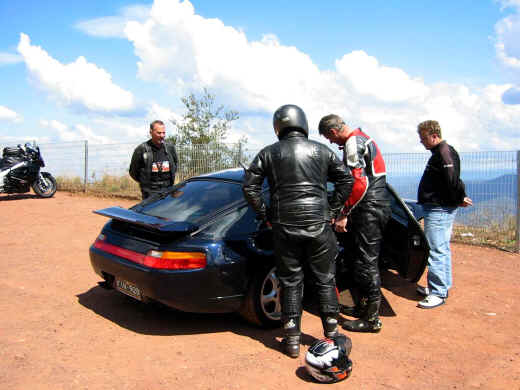 Rudy
"Aww, come on fellas get these handcuffs off me and I'll show it's not a secret Porsche prototype but a '95 GTS 928!"

Dave O
"... and you say you didn't know we now use unmarked patrol bikes, Sir?"

Harley:
"Really? You can have leather upholstery without having to wear it?."

Frank'N:
"These seats fit nice and snug"

Langdon:
"It look comfortable enough, but can you stand it up on the back wheels?"


"Hmmm... Twice as many wheels, twice as many cylinders, and twice as many seats. It does make some kind of sense I guess."

Pat
Eddie, Warren and Dazza suspect Mungo's mullet has scurried into an idle Shark, but it is actually LURKING in the back of Mungo's leather jacket! "Hey - I'm sure it wriggled down here when the door opened"

Andrew:
"Let's see, four wheels, seats four and beat me up here! Damn I've got to get me one of these!"

Phil:
"Hey, look at that, they wrote 'Porsche' on the bottom of the trough."

Bruce:
"Fair go mate, if you are gonna stay in front, ...don't break wind.. OK?"

Drew:
"Mate, the speedo on the bike was reading 250km/h - and this thing went past me!"


"Look, the speedo in this goes to 300km/h and the air conditioning button is still on!"


"Crikey, is that a half empty cafe latte next to the gear lever there?"

Jaime:
Kylie:
Piotr:
"Your shark just swallowed my bike.... Sir..."

Glenn:
"D'you reckon that we can get Yamaha to put one of these in its next "Dreams" ad?"

Alex:
"I dunno mate, last time I looked it was bloody there!"

Bert:
"No, he's not p**ing in the shark!"