Please help Nick McKenna conquer Addisons Disease!

An Update:


I have to say I'm blown away so far by the support you've shown in helping a fellow Landshark member. The campaign now sits at 50%. Now I'm not imagining that we could possibly hit the target figure, but wouldn't it be great if we did?

If anyone has doubts about Nick's continuing issues with his body, just ask someone who knows him on Facebook. It is an astonishing and horrible list of ailments that seriously impedes his life at the moment and could potentially blind him or worse. (cheery thought eh?).

Nick has helped or community for many years. Now all I ask is that you please help him. I thank you all in advance.

Please visit Nick's gofundme page

Leonard Zech

Long time landshark member and 928 enthusiast, Nick McKenna is suffering from Addisons Disease.


He requires urgent and prompt surgery for Adrenal Insufficiency. As reported "Mortality from primary and secondary adrenal insufficiency is 2-3-fold higher than in the general population. Mortality relates to cardiovascular disease, acute adrenal crisis, cancer and infections."

I hope by initiating this fund-raising campaign we can all in some small way, help Nick to get though his exceedingly trying times. Nick's condition is deteriorating. He is rapidly going blind (more than 8% every 3 months) along with all his other hormones as he puts it, 'going out of the window'!

Please visit Nick's gofundme page


We are a strong global 928 community, let's show how well we can look after our own!


Leonard Zech
A gathering of Sharks - Wolombi Frenzy 2009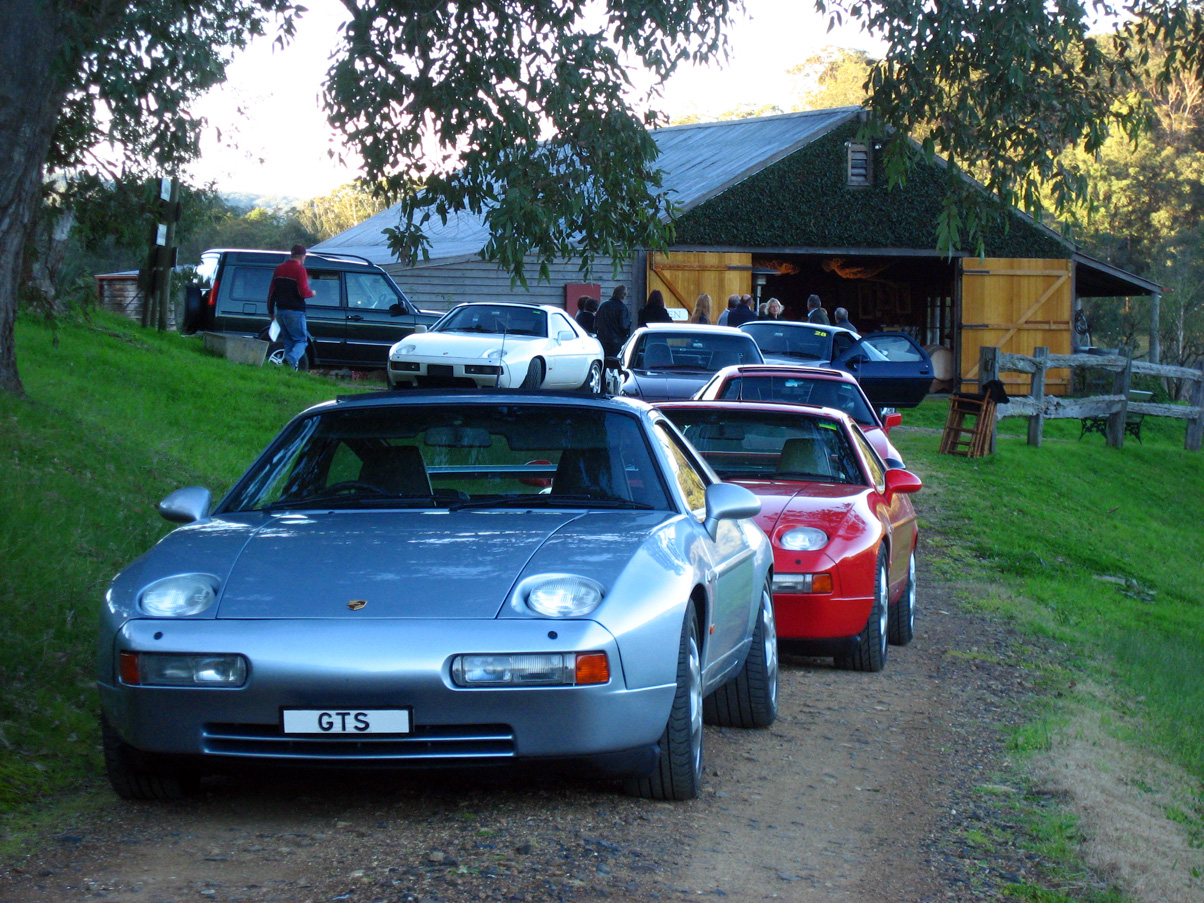 A snippet from the '79 Porsche 928 Sales Brochure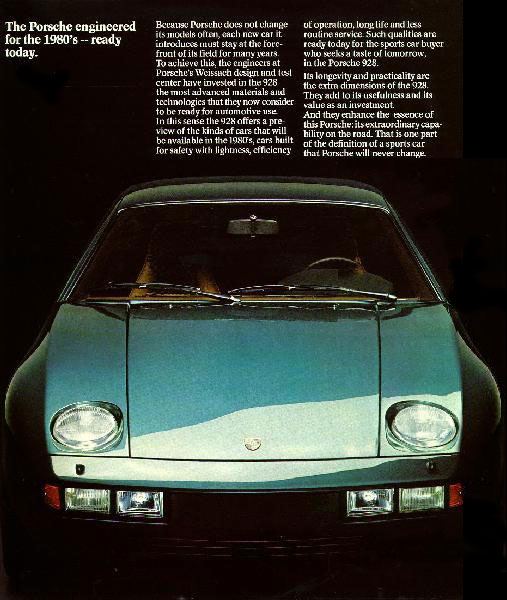 Introducing a redefinition of the sports car, by Porsche, the sports car specialist.
The type 928 represents a probe by Porsche into the sports car requirements of the decade ahead, that of the 1980s. For the 928, Porsche set ambitious goals. It was to be a high performance car that is also quiet, a car that corners superbly, and also rides well, a small and sleek car that is also roomy, and a luxury car that is also built for long life. In these ways and more, Porsche sought a redefinition of the sports car to meet the needs of an age more concerned about the environment, about energy, and about our resources. The 928 is the magnificent result.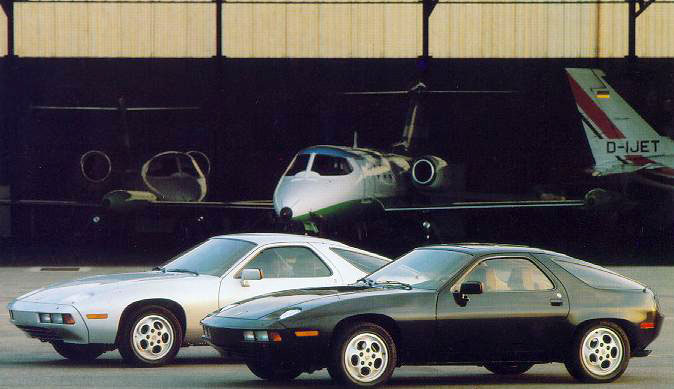 Porsche engineers felt they could only achieve all their aims in a completely new vehicle designed from the ground up without compromise. They choose a front-mounted engine, a 4.5 litre V8 of the most progressive kind. Its size means easy, effortless power and torque to satisfy the most demanding sports car driver, but it does not mean bulk or weight. Light yet strong aluminium alloy is used in all the engine housings. Along each cylinder bank is an overhead camshaft. It has self-adjusting hydraulic valve lifters which, like the breaker-less transistor ignition and CIS fuel-injection system, needs no periodic maintenance.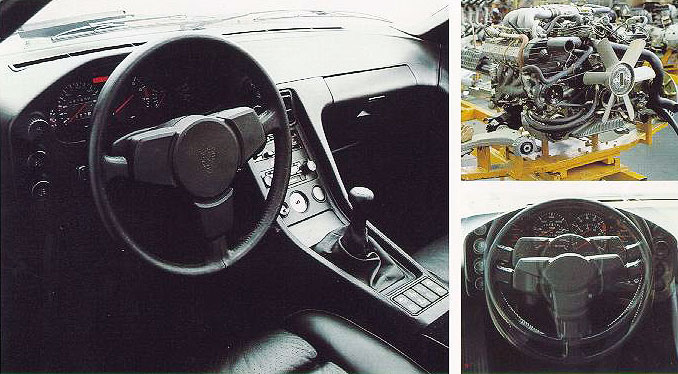 To balance the engine in the 928 chassis, the transmission was mounted at the rear, ahead of the axle. A choice of either five speed or a fully automatic three speed transmission is offered. Their success in racing encouraged the Porsche engineers to equip all four wheels of the 928 with independent suspension by upper and lower control arms and coaxial coil springs and shock absorbers. They designed the suspension to compensate automatically for the dynamic forces acting on the car. When accelerating it keeps the rear end from squatting too much. Under braking it keeps the nose from diving and when braking on uneven surfaces, help the driver maintain directional stability. Entering turns, the rear-wheel alignment self-adjusts to decelerating forces to maintain ideal tracking. Power assist is standard for the 928's rack-and-pinion steering and its vented four-wheel disc brakes.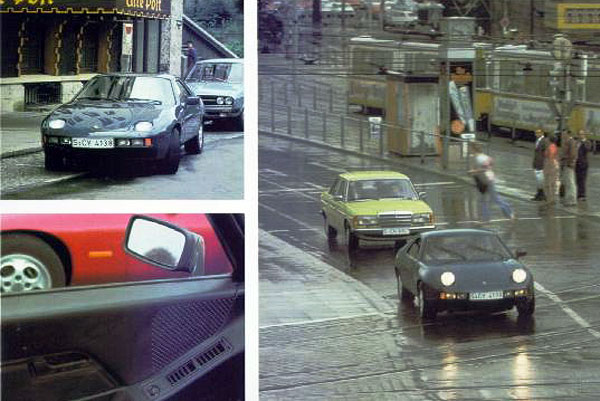 Porsche also found ways to give the 928 seating for four people that is comfortable and for more than short distances. Its riders enjoy every luxury and convenience. The driving position is fully adjustable, even to the angle of the steering wheel and instrument cluster. There are storage compartments in the dash, in the doors, and behind the rear seats. An illuminated make-up mirror folds safely into the headlining. All glass is tinted, and the door windows are electrically operated. An advanced air-mixing heating and air conditioning system is standard, as is an AM/FM stereo radio with cassette player. Possible problems are signalled by an On-board Warning System, and a steady freeway speed is maintained by the Automatic Speed Control. Built to resist corrosion for many years, the 928 body is partly panelled in aluminium and hot-dip galvanised steel. Its form was refined in the wind tunnel by stylists and engineers working together. They relied on taste and logic to create a new shape marked by its subtle elegance. Moving, the 928 has a mercurial fluidity of line. It looks as it is: born to be restless.