David Silverstone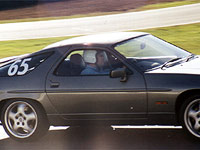 Thanks everybody that came out to enjoy the fun. Seeing all those 928's together always looks impressive. Still the best looking car on the road (or on the track)!

I had a fantastic time unleashing the mighty 928 on the track. I learnt a lot about the shark, it really performed incredibly well and felt really good no matter how hard I pushed it. Sturat certainly taught me plenty and had some good tips for me to consider next time.

I started out a bit conservative but I built up some courage after the first few laps and turned on my kick-down switch, wow, what a difference that made. I hit the 6000RPM rev limit plenty of times and managed to build up the torque and spin the wheels accelerating out of some of the corners (a nice little surprise!!).

I know now that I can push the shark A LOT harder next time. I never felt out of control on the track at any time, it was totally up to me how hard I pushed it. I hope to do it again soon at a PCNSW event.

Hopefully we will see some more sharks having a hoot out there on the track too! - David Silverstone '87 S4


Charles Falzon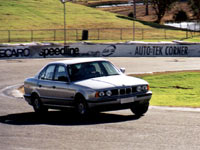 It was a fantastic day, and an emotional one for me to see all the 928s together, but only one white 928GT.

A comment about speed however; the sharks ARE faster than most of the cars there on the day - just not as quick and nimble; and quick and nimble counts for more at Oran Park. As I have said before, over a long distance on the road it would be where the 928s show their advantage.

In my (now gone) 928GT I think I could have been two seconds a lap faster than in my "fat taxi". I still had a ball - but oh, for some brakes!

It was also good to see the enthusiasm that many of the BMW guys had for the 928s! I guess they realise that a great car is a great car, even if it doesn't have an engine hanging out it's bum.

It was great to see so many of you again, and I hope to hear some more of those glorious V8s on the track again soon. - Charles "Taxi Driver" Falzon


Stuart Greaves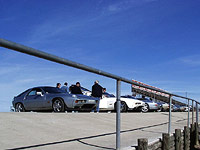 Thanks for the great show of support everyone. 10 or 12 928's parked up on the hill was quite a sight. What a great bunch of people!

And thank you to Cec for the beaut 928 T-shirt.

Hats off to rookie David Silverstone for acquitting himself so well. Beaut car. I couldn't believe it when I saw his S4 momentarily spinning the wheels after it slotted third gear coming onto the straight. No way would mine do that. What a torque monster!

You might remember that I was unhappy with my car last time out (bad fuel, tyre pressures). I have no complaints this time, the car was great. So the driver is definitely the weak link, but you all knew that already. More courage needed. I couldn't detect any handling difference from those new rear wheels spacers. Certainly, it wasn't understeering any more than previously as someone suspected it might. I was so chuffed at being able to stay with Charles this time, and I know I speak for Charles too when I say we had a ball chasing each other.

Charles and I were both confident that our (sans obligatory instructor) times were quicker. They sure felt quicker: at least a second. But not according to the provisional results. They claimed we were both still in the 55 second bracket all day. I also think Chucky had the wood on me in the afternoon times. Maybe half a second.

Well, we didn't smack too many BMWs, being at least 4 seconds off the pace off the best M3s, and 6 seconds from the ex-Longhurst car.

Did you see how many had 'serious' rubber on!! Now ... if Charles still had his GT, that would've been a closer contest methinks.

We had two sessions in the afternoon. Ten minutes is too long for me. My tyres would start well, but were overheated plasticine after five laps. They're all 'marbled up' now and don't look pretty. Charle's brakes would give up about the same time as my tyres: that's why we both put in slow laps in the second half of the sessions: to let things cool down a bit. However his P-Zeros look unmarked. Evidently worth the money!

Tyre heat issues might also explain why my fastest lap of the day was, once again, about the second flying lap of the first session, complete with 100kg instructor! All will be revealed when the results come out.

Driving home, the car was a tight as ever and showing all the benefits of the 'Italian tune-up'. Jeez these cars are tough. It used no oil, no water, but a fair amount of fuel and rubber.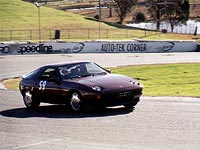 Once again, thanks to all the 928 frat club for the support. Guys, ladies, you gotta get out there and just do it once in a while. It's a blast! Make a plan! Eastern Creek, Wakefield, wherever. And we should make it a PCNSW event next time!


Let's ... wait for it ... teach the 911 boys a lesson!
Regards, Stuart Greaves '84 928S