Suspension swap-over
The manual cross-member is different from the 3/4 speed autos.
Porsche moved the manual forward about 30mm - not just the mount, as the diff/axle line is noticeably more forward than the auto.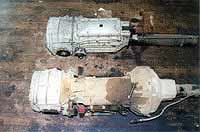 This pic was taken after I had lined up the bell-housing, torque tube, of both trans & gearbox. Note where both the gearbox rubber mounts are and the CV joint plates. The manual is more forward than the auto - why?? - must be better something.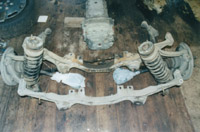 So, you must strip down the cross-member, remove trailing arms, top link - out to the disk brakes and springs/shocks and handbrake cables and transfer them to the manual cross-member.

top | remove auto trans | modify firewall
cut shifter mount | transfer rear suspension | install gearbox
install rear suspension | mount clutch | wiring | back